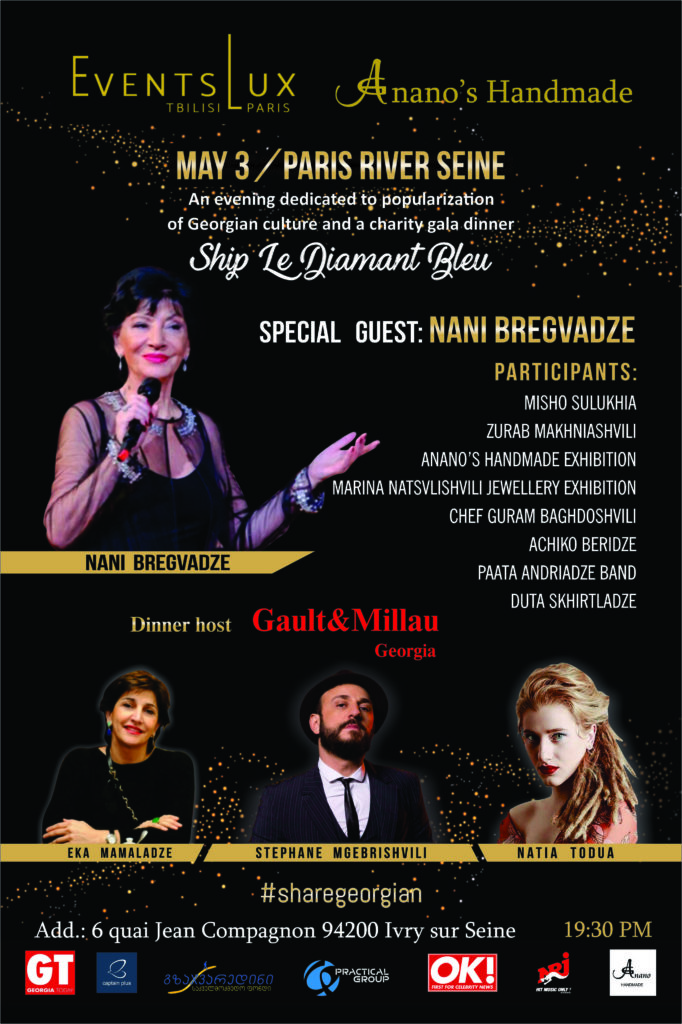 On May 3, in Paris, at Seine River on the cruise ship called "Le Diamant Bleu", an event dedicated to the popularization of Georgian culture and Cuisine was organized by the company "Event Lux" – the event included the gala dinner and a special concert as well.
The main presenter of the event was the salon of young designer Anano's Handmade, who represented her handmade tissues to the guests.
Georgia was presented as the country of great cultural heritage and attractive location for tourism. The representatives of the Embassy of Georgia and Diaspora in France attended event, as well as the guests from France, Italy, Iceland and other countries, who received important information about country.
The special guest of the evening was the legendary Georgian singer Nani Bregvadze and singers Eka Mamaladze, Stephane Mgebrishvili, the winner of German Voice – Natia Todua, Misha Sulukhia, Paata Andriadze's Band, Achiko Beridze, Zura Makhniashvili and actor Duta Skhirtladze.
The exhibition represented handmade tissues of young designer Anano Gelovani and a beautiful collection of jeweler-designer Marina Natsvlishvili's exclusive jewelry. The background of the concert was an introductory documentary film about Georgia, presented by the National Tourism Administration. One of the main components of the cultural program was the photo exhibition of world famous artist Henry Machavariani.
The official partner of the evening was Gault et Millau, widely recognized French company gastronomical guide, which significantly defines standards of cuisines around the world. Gault&Millau is represented in 25 countries and from 2017 in Georgia as well. On 3rd of May, Gault&Millau hosted guests in its homeland with Georgian Dinner. The dinner was presented by Georgian Gault&Millau's Chefs. The best chef of the year Guram Baghdoshvili, The best young chefs of the year-Nikoloz Metreveli and Ilia Benashvili, Chef-baker of the reataurant Bioli- Khato Bakuradze, Lasha Kenchadze– Chef of the Restaurant Schuchmann. The dishes were exclusively prepared with Georgian tastes. Events like this will strengthen the relationship between two countries.
The event was organized by "Event Luxe" and Charity Foundation "Gzajvaredini".
The purpose of the Charity Foundation "Gzajvaredini" is to help young people outside of the family care in creating future, learning and acquiring professional skills.
The aim of foundation is to help them to adapt to the society, in order for them to be able to feel full-fledged members in this community as soon as possible.